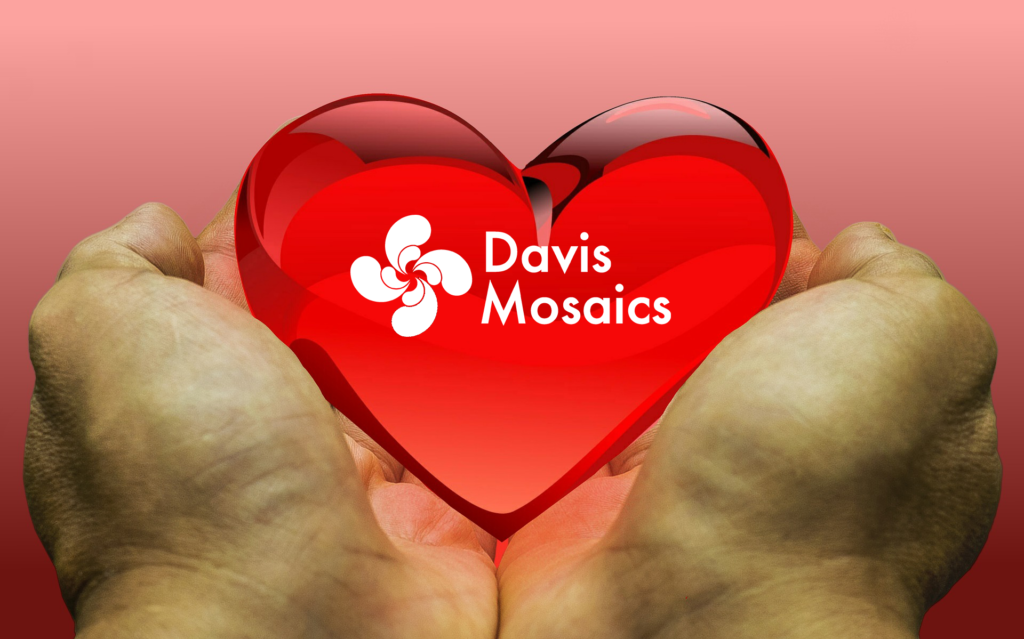 Your donation will support Davis Mosaics community, which is sponsored by Davis Community Church, offering various intercultural language and music meetups, cross-cultural community events and spiritual classes to all people, especially multi-racial Millennials (aka Mosaics or Gen Y) and Gen Z. Our activities include feeding homeless and also helping who are in need.
As a clergy, As a clergy, Stephen may not be qualified for unemployment benefits and your love offerings will also help supporting Stephen and Grace who focus building ministries of Davis Mosaics. ♥
To make FaceBook donation, please visit: https://www.facebook.com/donate/1578390915644117/1578390928977449/
• Fundraising Period: March 30, 2020 through June 30, 2020
• Fundraising Goal: $5,000
Mission Statements:
Mosaics seeks to move the "church as institution" to "religion as spiritual faith," placing an emphasis on creating a culture of belonging and knowing one another deeply first. As Dr. Diana Butler Bass so eloquently puts it, "Christianity did not begin with a confession. It began with an invitation into friendship, into creating a new community, into forming relationships based on love and service."
Mosaics continues to restore the koinonia of the early first century movement (Acts 2:42-47), encounter (paga) with God in a daily basis to share everything in common, praising God and enjoying the favor of all the people, which is the authentic agape fellowship instructed by our Lord Jesus Christ. In the new era of paradigm shift, Mosaics will truly be an exciting movement for the church of future.
________
If you would like to support our ministries to expand more in 2020-2021, please make tax-deductible love-offering check(s) payable to: "Davis Community Church" (for Davis Mosaics on the note) and mail your donation to:
Dr. Stephen Moon, Mosaics Pastor
(c/o Davis Mosaics)
8893 Shasta Lily Drive
Elk Grove, CA 95624
or
Maria Rodriguez, Minister of Finances
Davis Community Church
(c/o Davis Mosaics)
412 C Street
Davis, CA 95616
________
Your generous donation in any amount will be greatly appreciated. To make one-time or recurring donation(s), please visit our special FaceBook donation page at: https://www.facebook.com/donate/1578390915644117/1578390928977449/.
Thank you so much for your support and prayer!
Dr. Stephen & Grace Moon, Davis Mosaics