Over 50 people gathered to celebrate 2023 Lunar New Year's Day. Just before starting the dinner banquet, KCRA 3 News Team visited us and interviewed me to feature Mosaics in the local news: https://www.kcra.com/…/davis-lunar-new-year…/42607259.
Lunar New Year celebrations held in Davis on Saturday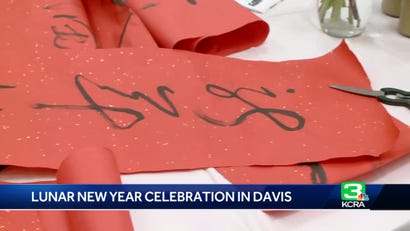 Updated: 7:17 AM PST Jan 22, 2023
Lee Anne Denyer, Reporter
Dozens of people celebrated Lunar New Year Saturday in Davis.
The celebration was held at the Davis Community Church.
"A place to celebrate, and have a good time, and emerging into this cultural event with so many people who are from different backgrounds," said Rev. Stephen Moon, of Intercultural Mosaics.
Moon said the church regularly holds Lunar New Year celebrations to ensure people have a place to celebrate their culture — and the cultures of others.
See more in the video above.
We celebrated the new " Year of Rabbit" with traditional Korean banquet with Chinese-Korean dumplings and many delicious traditional desserts followed by various games, music, sharing of gifts and raffle drawings.
Intercultural Mosaics is reaching out all generation in our community to experience God's love and grace through the radical hospitality built with may different intercultural and spiritual classes since 2013. Currently, we have over 200 regular participants with 15 faithful leaders who serve Mosaics community of faith, hope and love.
Happy New Year!!
Rev. Dr. Stephen Moon